Welcome to Hitomi Dentistry
Beginning May 18, 2020 we will resume our regular operations following The California Public Health Department guidance issued on May 7, 2020.
Founded by Dr. Rodney Hitomi in 1972, Hitomi Dentistry remains committed to our patients and our community.
As a leading dental clinic, Hitomi Dentistry focuses on comprehensive treatment that starts with oral hygiene education and preventive care. Dr. Trent Kanemaki and our team of specialists Dr. Dennis DeMesa (general dentist), Dr. Tyler Hendry (periodontist), Dr. Jay Sung (endodontist) pay close attention to each particular case to provide best treatment outcome possible. We're located in El Monte, - center of San Gabriel Valley. It is our pleasure to welcome patients from Baldwin Park, Azusa, Covina,Temple City, Alhambra, Monterey Park, Los Angeles, Hacienda Heights, La Puente and surrounding communities.
We offer:
Oral Surgery Including Wisdom Teeth Extraction
Dental Prosthesis Including Implant Supported Over-Dentures and the "All-on-Four" Technique (implant supported immediate dentures)
Orthodontic Treatment Invisalign
Community Involvement
West Coast Fencing Academy
Our office is proud to support the West Coast Fencing Academy, our local saber-fencing club. Fencing is a popular sport found at elite and Ivy League Universities, such as Harvard, Stanford, Yale, Brown, Columbia, Notre Dame and many others. We thrive to provide children from San Gabriel Valley with this unique opportunity to learn saber fencing, often called physical chess. We say to all of you – "Come win with us!"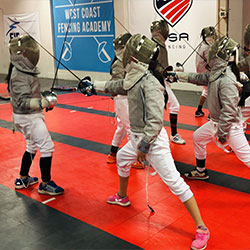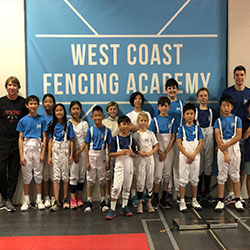 "The best dentist office, from the staff to the dentists. My experiences have always been great. The office is very professional and very nice. I highly recommend Hitomi Dentistry. They inform you outright of the costs and procedures. They're the best! Anna knows her stuff."
TL
"Service was very good...husband had his wisdom teeth extracted with very little bleeding. Entire dental staff is very courteous and very helpful, even when you ask questions. They're very helpful making you feel comfortable and welcomed, easing your stress or worry...very clean dentist building...I'd refer and recommend to ANYONE."
Angela W
"Simply the best! Dr. Kanamaki and his staff are great! When I first walked in I needed a lot of work to be done. They walked me through the best strategy to take care of everything and I couldn't be happier with how everything turned out. I definitely recommend Hitomi to anyone looking for a great dentist."
Robert F
Review us on